What's the meaning of gambling tattoo symbols? In this article, we explore some of the most common gambling tattoo designs, such as Lady Luck, a four-leaf clover, etc. We wanted to know why people tattoo them and what they represent.

Gambling Tattoos and Their Meaning
Tattooing gambling symbols have become so popular these days that you might already know someone with Lady Luck somewhere on their body. Or you're reading this because you are thinking of getting a gambling symbol tattooed yourself! We noticed this amusing trend and decided to explore some of the most common symbols related to gambling that people chose to tattoo.
There is evidence that tattoos are as old as humanity. Archaeologists found traces of them even among prehistoric peoples. They say that the reasons why people used to tattoo their bodies varied across cultures. Usually, this was to signify the social status of the holder, mark the interconnectedness between the body and the Universe, invigorate the spirit, drive away evil spirits, or attract positive energy.
Nowadays, tattoos have become a popular fashion trend all around the world. The technology of tattoo art has never been better, and now it's possible to decorate your skin with anything you can think of.
It seems like there is a natural correspondence between the art of tattoo and gambling, and it is in the idea of attracting good luck. However, it is a common misconception that only gamblers tattoo their bodies with cards and dices. The truth is that gambling tattoos express the very best of gambling philosophy. So what is the meaning of the most common gambling tattoo designs?
Lady Luck
Therefore, it is no wonder that she is a modern version of Fortuna, an ancient Roman goddess of fate and luck. However, while Fortuna was a divinity everyone respected and feared, Lady Luck is more of a femme fatale. This makes her a symbol of perfection and luck, which belong to no man and are impossible to possess forever.
Four-Leaf Clover
This is a symbol of Celtic origin, especially popular among the Irish people. And since four-leaf clovers are very hard to find in nature, they became a symbol of luck that strikes only a few. Its four leaves represent Hope, Faith, Love, and Luck.
They are often depicted with the characteristic Celtic knotwork and in green colors. Along with another Celtic pattern, a shamrock, it reminisces a club sign in playing cards and attracts positive energy, signifying resurrection and eternal life.
Dead Man's Hand
A Dead man's hand is one of the most beautiful and complex gambling symbols. It originated from the Wild West folklore and features five cards (2 aces, 2 black eights, and one unknown card) along with a gun.
There's an interesting story behind this symbol. There was a man known as Duck Bill, and he was a mid-nineteenth century wagonmaster, scout, controversial lawman, and a bear-fighter. That's what I call a biography! In summer 1876, he arrived at Deadwood and soon started winning a lot from what he was very skilled at — gambling. He played with a person named Jack McCall and managed to take everything he had. Duck Bill then decided to leave him something so he could buy himself breakfast, but he did it in an incredibly insulting manner. So Duck Bill came to play another poker game tomorrow to earn himself some more money, and McCall showed up with a gun and shot him in the head. The legend has it that Duck Bill died clutching five cards in his hand: two aces, two black eights, and one which remained a mystery.
And even though there is evidence that the expression "Dead man's hand" existed even before this event, this story still has a profound meaning. It suggests that loss is a natural part of life and that Fortune eventually punishes those who want to win all the time. So whichever game it is, two aces together with two black eights are believed to bring bad luck to players ever since.
Other Symbols
Along with the previous ones, people decide to tattoo other gambling symbols as well. One of them are dice, a symbol of risk and randomness of luck. Slot machines and cherries (which used to be one of the most common symbols on old slot machines) are among popular choices too. They stand for the same ideas as roulette wheels and poker chips — hope that you will be the Fortune's choice among millions of possibilities.
The Ace of Spades is the most valuable card you can get and is, therefore, a symbol of a rare and fortunate choice. The black Eight-ball is also a special ball in the game of pool, the one which must be left last, and the one that finishes the game, again symbolizing exclusiveness and uniqueness. But this symbol calls for caution too: you must do things at the right time. If you send the black Eight-ball into the hole before the end, you will lose the game immediately.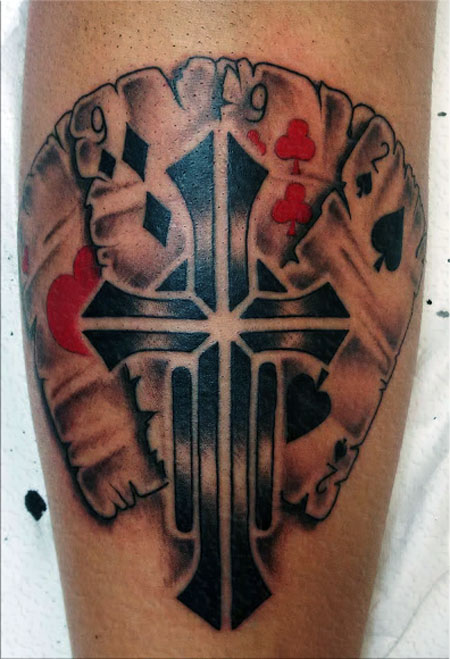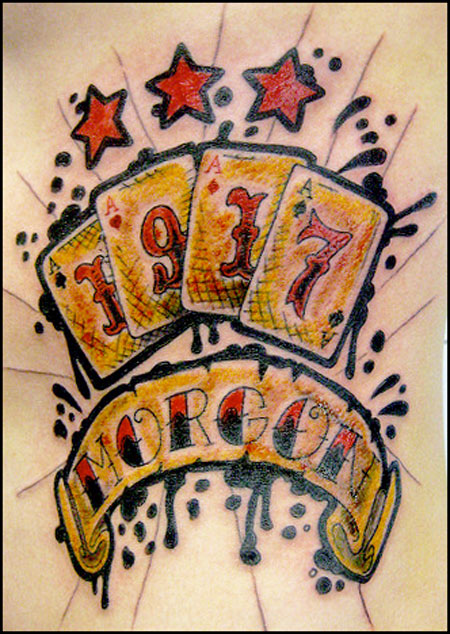 Summary
The reasons why people decide to tattoo some of the gambling symbols are various, but it's not about whether you go to a casino or not. It's about understanding life as a game, about a lifestyle which relishes the thrill of the unknown. And this is not something that was invented with modern casinos. As we have seen, this idea of life as a gamble exists from prehistoric times and comes from man's infinite fear and admiration of life's mystery.