What is it about dice that immediately catches everyone's eye and makes them feel like they can do anything with one simple throw? Why are dice one of the most popular tattoo symbols today? Read our article to find out!

Dice are most commonly known as an object that goes from the hand of one player to another when playing in a casino, or rather enjoying a board game with your loved ones. It can give unimaginable luck, or take it all away in the blink of an eye.
Dice have been present for longer than you can imagine. Antique dice were made from bone, wood, stone, or metal, and it is considered that the first ones date thousands of years ago, way back to ancient Iran, between 2800 and 2500 B.C. Back then, they were used in a game of backgammon and were very popular in both Europe and Asia.
In fact, even the design of European, Asian, and today's western dice is a little different. While the American and European dice have dots outside of each side, the Asian ones are closer to the center.
The dice tattoos have many meanings, and the most common symbol used are flaming dice. Why are flames so appealing, you may ask? Well, for some people, they can represent burning hate, feelings of rage, or even danger, depicted with dice, they can symbolize a strong passion for gambling, not only in a casino but also in life. They symbolize a sense of willfulness and determination, as well as good fortune and prosperity.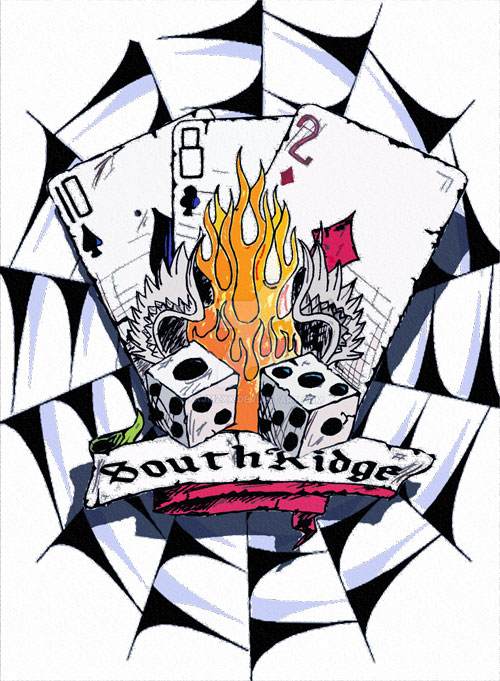 Dice typically represent uncertainty, so the tattoo can mean trusting in yourself, as well as believing that the luck is always on your side. It reminds you that if you believe in your luck, it will always protect you. That is why the dice symbol can be found in many other forms aside from tattoos. Not only in casinos, this symbol can also be seen in cars, on keychains, as jewelry, and more. Because you can never have too much luck, right?
What is more, dice are a popular tattoo design for both men and women all around the world. Additionally, dice can also represent ups and downs, which gives them a much deeper psychological meaning. It serves as a reminder that life is full of uncertainties, but if you persist through the bad times, the good ones are bound to follow.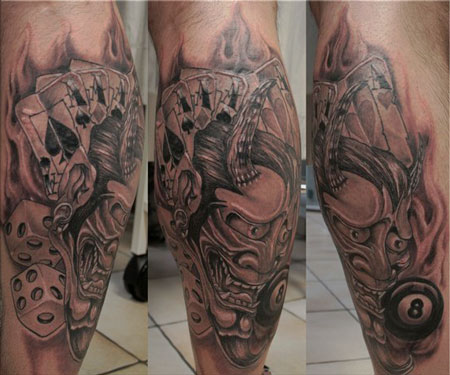 Numbers and Symbols
When you tattoo dice, it is very important to choose the numbers they will depict. You can't just have any number plastered on them since every single one has a special meaning. For example, in the majority of casino games, the best number you can get when rolling dice is seven. Aside from gambling, in many parts of the world as well, number seven is considered to be extremely lucky. God created the world in six days and rested on the seventh, there are seven wonders of the world, and so on.
Additionally, the number eleven is also considered to be lucky and can be found quite often on dice tattoos.
On the other hand, while number seven may be really lucky, two ones, otherwise known as snake eyes, are the worst possible luck. However, this symbol is still used by many body ink lovers, and it tells a lot about a person. It shows that they are not easily scared and deterred from their goals, and they are willing to try their luck and bet on themselves. Also, the snake eyes can represent a great loss and the person's struggle to overcome it.
Moreover, the dice can be tattooed combined with other symbols, such as diamonds, poker chips, eight balls, and many more that are in relation to gambling and playing games altogether. Many professional and enthusiastic casino players choose to put these images on their bodies to show genuine love and appreciation for their favorite game.
Traditionally, dice tattoos are in black and white, but there are a lot of colored ones as well. From red to pink and blue, there are more combinations than you can think of. For men, for example, the most common choice is the simple dice with black dots. The women, however, choose bolder combinations, with purple and pink palettes. The design choices for your dice tattoo are practically endless.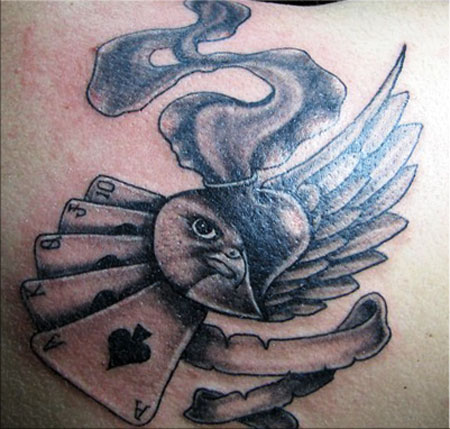 For Every Personality
Dice tattoos are a popular choice for many different types of people. Young or old, no matter if you play at the casino regularly or have never even come close to it, dice can have a different meaning for everyone.
Most commonly, dice symbolize risk takers, people with strong abilities to take life in their hands, to be bold and take chances. Additionally, dice can represent good fortune, as well as trusting in yourself and your good luck every step of the way. And just like any other tattoo, many choose dice just because they "look cool," and there is nothing wrong with that. If done correctly, dice tattoos can be very appealing and classy.
Rubik's Cube — The Alternative
Besides the dice symbolism, a lot of people choose the Rubik's cube as an alternative. The cube represents the present time, as well as a way of dealing with difficult decisions. It is very unique and consists of many colors. It can symbolize wisdom and intelligence, as well as persistence and the ability to deal with difficulties.
Whichever option you choose, dice are a sure way to show your uniqueness!